Let's face it, renovating a bathroom can be intimidating. There is so much to do, and it can cause anxiety for homeowners who are not sure what they are doing. That's where a plumber comes in handy!
A certified plumbing contractor will assist you with everything from the needs of your new bathroom to installing fixtures and making sure that you have working water, heating, and ventilation systems.
This blog post discusses why you need one during your renovations or when building an entire house to ensure that all of the plumbing functions properly. Read on below for more details!
The Years of Experience of a Plumber Will Come in Handy
It can be exciting to finally have your bathroom renovated; adding marble tiles, huge mirrors, and a bathtub can be tempting. But it is important to remember that renovations are not just about slapping on fancy tiles and fixtures. You also need a plumber who has the experience to make sure everything works properly.
A certified plumber with years of experience will be able to make sure that the plumbing is safe and functional before any of your fixtures, tiles or tools are installed.
Failing to do this doesn't only mean that your bathroom might not work properly; it also means that you will have to live with the consequences for many years, such as constant fixing and piping adjustments which often leads to higher costs!
A Plumber Can Recognize Problems and Help With Installation
Another thing plumbers bring to the table when renovating is the skill to be able to spot potential problem areas that might arise. For example, a plumber can easily identify old piping or warn you about your ceiling height and explain what needs to be done to avoid any plumbing disasters in the future.
Plumbers can easily recognize potential issues that might happen in the future even when you might not.
In addition, a plumber will help you during the installation process of your bathroom. They can give advice on where to place your bathtub or how to install sinks in your bathrooms for example. They are also skilled at installing fixtures such as toilets, showers and tubs which is why it is important that you hire one when renovating your bathroom!
You Won't Have to Buy the Plumbing Tools
It can really be bothersome to buy your own plumbing tools for your bathroom's renovation. You'll have to think about the cost per tool, where to purchase it and learn how to use it as well!
By the sound of this, it could be a daunting anf tiring task. This is why you should use professional plumbers for your bathroom renovation needs. Hiring a plumbing company will save you time and money in the long run, as they already have all the needed tools to complete your bathroom renovation.
Plumbers always carry with them a complete set of tools that fit a variety of plumbing needs. They also know how to use each tool and your bathroom renovation will be completed in no time!
A Plumber Will Do the Work Right the First Time
Because all professional plumbers has undergone the needed training to ensure they have the proper skills and knowledge to do a bathroom renovation, you'll be able to avoid errors.
You won't have to worry about figuring out how plumbing works yourself because your plumber will take care of it! Professional plumbers are also trained in their respective fields so should any problems arise during construction, they can easily fix them without having to contact third parties or call for help.
These professionals will be able to do their work right even at the first try which in return, saves you money and time because you won't have to redo the work.
Your Bathroom Renovation Will Finish Faster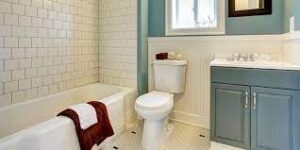 If you're in a rush to finish your bathroom renovation then hiring a professional plumber is the best option for you.
A plumbing company will install your new bathroom with all the necessary tools and parts in no time! And if there are any problems, they'll be able to fix it on their own without having to take too much time to do so, resulting in a quicker finished project!
In a Nutshell
So, now you know why it is important to hire a professional plumber for bathroom renovations.
We hope that this blog post has helped answer some of your questions and provided helpful information about the process.
If there are any other concerns about plumbing you want to be addressed, please let us know in the comments section below!