Moving into a new house can be quite overwhelming. There are a lot of things to prepare and think about and among those is the plumbing. Since a proper plumbing system is needed in any household since this is what gives you your water supply for washing, bathing, and drinking, you must know the basics when it comes to plumbing.
But how do you do plumbing for a new house? What are the useful points to be followed? This article will show you the crucial tips you need to know about basic plumbing to help you get started in your new house. So go forth and read on!
P.S. Need help with your plumbing issues? We have a team of plumbers throughout Malaysia with years of experience and are ready to help you out.
Your Main Water Shut-Off Valve Must Be Accessible
 
The first thing you'd like to do is making your Main water shut-off valve easily accessible. This thing is responsible for turning off and on your entire water supply.

In case of the main sewer line clog or perhaps a leak, you'll have to be able to easily access your house's primary water shut-off valve if you don't want to cause any flooding.
Make sure your main valve is in your living space and not in a crawlspace. Save yourself from the frustration of crawling beneath your house with light by placing the water valve somewhere accessible.
Consider Your Bathroom's Lines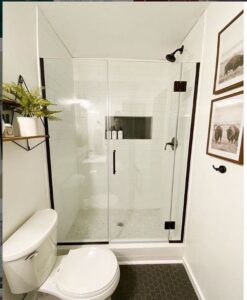 Since your bathroom is where water is most needed, taking into consideration your bathroom pipes and drainage is crucial. If your house contains more than one bathroom, It is good to evaluate each bathroom individually.

While many plumbing system requirements will be the same, such as the bathroom sinks and toilets, others can still vary.
For example, you may like a stand-alone shower or a sophisticated Jacuzzi tub in the main bathroom. It would be best if you also thought about how many shower heads you'll want since many modern showers have multiple. 
Proper Placement of Sump Pump Discharge Line 
The primary use of a sump pump is to pump out water that has flooded into your basement. However, if the pump's discharge line is not connected to the storm-sewer, this can make taking out water from your basement quite tricky.
To stop any water damage from happening in your newly built house, ensure that the pump's discharge line is pointed to a location where water can properly drain away from your home. 
Install Your Water Heater in The Basement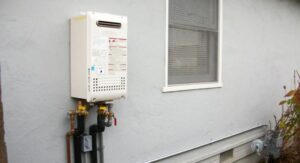 Many people know that the most convenient and easily accessible place to install your furnace and water heater is in the basement. It's a great and safe place to put both devices since it's away from the reach of your children.
However, if you don't have a basement in your house you can still install it in your living room but make sure you place it in a utility closet to secure the furnace and water heater safely, you wouldn't want your children to mess with those! 
Related Post: How Home Plumbing Works
Consider Installing a Water Softener 
Water softeners are actually remarkable for houses where hard water problems are common. But, even if you feel like you don't need this useful device, we still highly recommend you to install the plumbing for one.

Having good plumbing for a new home implies keeping in thought that your plumbing needs might change 5-10 years from now. Furthermore, If you ever decide to sell your house, Water softener systems are undoubtedly attractive to potential homebuyers.

Installing a new water softener will be much simpler and more comfortable if the plumbing is already there.
Conclusion
Knowing the basics of plumbing for your new home can be challenging, but that doesn't mean you can't get the hang of it! Keeping these tips at heart will not only save you money from hiring a professional plumber, but it'll also ensure that your plumbing system is working great to avoid any future issues.